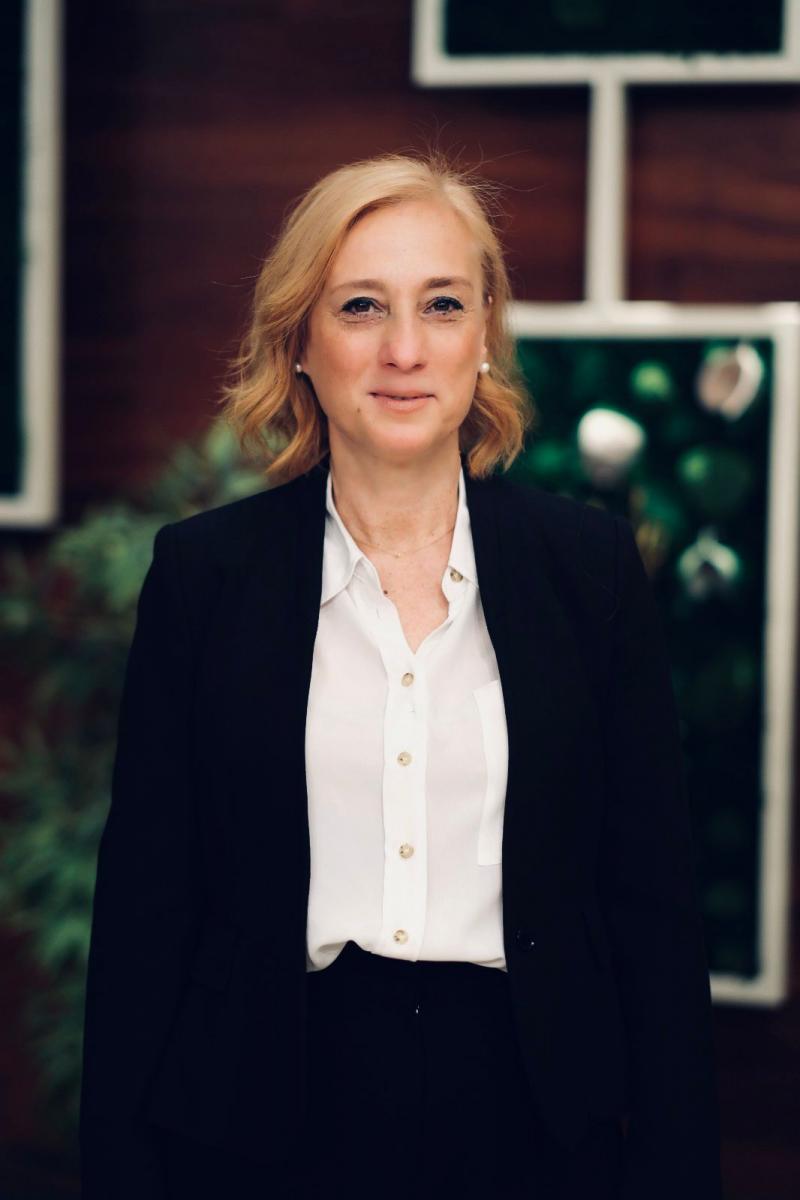 Head of Physiotherapy and Rehabilitation Department
Physiotherapy and Rehabilitation Program Educational Goals
To provide universal-level physiotherapy and rehabilitation training.

To educate researchers, sharing, participating, and generous individuals who have adopted the ethical values of the physiotherapy profession and the principle of protection, treatment, and development of physical health and functional skills.

To improve the health of individuals of all age groups (newborns, children, adolescents, adults, and elderly).

To assist individuals in reaching the highest possible level of independence after an illness or accident.

To be able to evaluate, using current evidence-based physiotherapy and rehabilitation knowledge, to plan treatment with a critical and interpretive perspective.

To train physiotherapists, who can design and carry out scientific studies, have advanced professional autonomy, and can work in various settings.
Physiotherapy and Rehabilitation Program Outcomes
To have the necessary medical knowledge for physiotherapy and rehabilitation applications, both nationally and internationally.

To be able to identify and analyze problems using basic knowledge.

To use physiotherapy and rehabilitation assessment tools and to provide evidence-based solutions, to protect and improve the health of patients and healthy people to achieve the best functional level.

To choose and use appropriate physiotherapy and rehabilitation techniques for every case.

To gain practical skills in application processes.

To be able to select the proper therapy agents to be used in rehabilitation and to increase the ability to follow, evaluate, and apply the current literature to the treatment program.

To have an idea about particular topics in physiotherapy.

To have an idea about oral and written communication methods for proper communication.

To achieve a willingness for lifelong learning and self-improvement.

To be able to determine duties, rights, and responsibilities related to the physiotherapy profession and to behave following professional ethics, principles, and standards.
 
PO1
PO2
PO3
PO4
PO5
PO6
PO7
PO8
PO9
PO10
TOTAL
%
Lesson Code
Required Courses
 
 
 
 
 
 
 
 
 
 
 
 

FHS 121

Anatomy I

2

1

1

0

1

0

1

1

2

1

10

50

PTR 101

Heat & Light

1

1

1

1

1

2

0

1

1

1

10

50

PTR 103

Normal Motor Development

2

1

1

1

1

1

1

2

2

2

14

70

PTR 258

Biophysics

0

0

0

0

0

0

0

2

2

2

6

30

TKL 201

Turkish Language  I

2

2

2

2

2

2

1

2

1

1

17

85

HUM 103

Humanities

0

0

0

0

0

0

0

2

2

2

6

30

PTR 122

Anatomy II

2

1

1

0

1

0

1

1

2

1

10

50

PTR 106

Hydrotherapy

1

1

1

2

1

2

2

1

2

2

15

75

PTR 118

Introduction to Physiotherapy Occupation

0

2

2

0

1

0

1

2

2

2

12

60

PTR 133

Physiology

2

2

1

1

1

1

1

1

2

1

13

65

PTR 214

Biomechanics

1

2

2

1

1

0

2

0

2

1

12

60

TKL 202

Turkish Language II

2

2

2

2

2

2

1

2

1

1

17

85

PTR 201

Testing and Evaluation in Physical Therapy 3

1

1

1

2

1

2

2

1

2

2

15

75

PTR 203

Manipulative Therapy I 4

2

2

1

1

2

2

2

1

1

2

16

80

PTR 221

Neurology and Neurosurgery 

2

2

1

1

0

1

1

2

2

2

14

70

PTR 205

Electrotherapy I

1

1

1

2

2

2

0

1

1

1

12

60

PTR 209

Functional Anatomy and Kinesiology I 

1

2

2

1

1

1

1

1

1

1

12

60

PTR 211

Neuroanatomy

2

2

1

1

0

1

1

1

2

2

13

65

PTR 223

Internal Medicine, Rheumatology and Radiology

2

2

2

1

1

1

2

1

1

1

14

70

PTR 225

Orthopedics and Traumatology

2

2

2

2

1

2

2

1

2

2

18

90

PTR 204

Exercise Physiology

1

2

2

1

1

1

1

1

1

1

12

60

PTR 206

Manipulative Therapy II 

2

2

1

1

2

2

2

1

1

2

16

80

PTR 208

Electrotherapy II 

1

1

1

2

2

2

0

1

1

1

12

60

PTR 210

Principles of Therapeutic Movements 

1

1

1

2

2

2

1

1

2

2

15

75

PTR 212

Principles of Pharmacology 

1

1

1

0

1

1

0

1

0

0

6

30

FHS 202

Functional Anatomy and Kinesiology II 

1

2

2

1

1

1

1

1

1

1

12

60

PTR 271

Summer Practicum I 

1

2

2

2

2

2

2

2

2

2

19

95

PTR 303

Cardiopulmonary Rehabilitation

2

2

1

1

2

2

1

1

1

1

14

70

PTR 313

Orthopedic Rehabilitation 

2

2

2

2

2

2

2

2

2

2

20

100

PTR 311

Pediatric Rehabilitation 

1

1

1

2

1

2

2

1

2

2

15

75

HTR 301

History of Turkish Rev. 1

0

0

0

0

0

0

0

1

2

2

5

25

PTR 301

Neurophysiological Approaches 1 

0

1

0

2

2

2

2

0

2

0

11

55

PTR 302

Neurophysiological Approaches 2 

0

1

0

2

2

2

2

0

2

1

12

60

PTR 309

Physical Therapy in Sports

1

2

2

2

2

2

2

2

1

2

18

90

PTR 314

Neurologic Rehabilitation 

2

2

1

2

2

2

2

2

2

2

19

95

HTR 302

History of Turkish Rev. 2 

0

0

0

0

0

0

0

1

2

2

5

25

PTR 315

Orthotics and Prosthetics Rehabilitation

1

2

2

2

1

1

2

1

2

1

15

75

PTR 272

Summer Practicum II 

1

2

2

2

2

2

2

2

2

2

19

95

PTR 401

Clinical Practicum I 

2

2

2

2

2

2

2

2

2

2

20

100

PTR 403

Clinical Problem Solving in Physiotherapy 

2

2

2

2

1

2

2

2

2

2

19

95

PTR 415

Preparation of Project Proposal 

2

2

2

1

2

2

2

1

2

1

17

85

PTR 402

Clinical Practicum 2 

2

2

2

2

2

2

2

2

2

2

20

100

FHS 312

Biostatistics

1

2

2

0

0

0

0

0

1

1

7

35

PTR 416

Project and Presentation 

2

2

2

1

2

2

2

1

2

1

17

85

 
 
 
 
 
 
 
 
 
 
 
 
 
 
Lesson Code
Elective Courses
 
 
 
 
 
 
 
 
 
 
 
 

FHS 104

Microbiology

1

2

1

1

1

2

0

2

2

2

14

70

PTR 104

Psychosocial Rehabilitatıon 

0

1

0

0

0

0

1

2

1

1

6

30

FHS 102

Pathology

0

1

1

2

2

2

2

1

0

0

11

55

PTR 312

Special Topics in Physical Therapy

1

1

1

2

1

2

2

1

1

1

13

65

PTR 310

Occupational Therapy 

2

2

2

2

2

2

2

2

2

2

20

100

FHS 301

Research Methodology in Health Science 

2

2

2

0

0

0

0

1

2

1

10

50

PTR 408

Physical Therapy and Public Health 

1

2

2

2

1

2

2

2

2

1

17

85

PTR 413

Seminar

2

2

2

1

0

2

2

1

2

1

15

75

 
 
 
 
 
 
 
 
 
 
 
 
 
 
Lesson Code
Free Elective Courses
 
 
 
 
 
 
 
 
 
 
 
 

PTR 256

Consulting in Health Services 

1

1

1

1

1

1

2

1

1

1

11

55

PTR 254

Lymphedema Therapy

1

1

1

1

1

1

2

1

1

1

11

55

PTR 259

Health Care Models and Rehabilitation 

1

1

1

1

1

1

2

1

1

1

11

55

PTR 250

Disability and Community

1

1

1

1

1

1

2

1

1

1

11

55

PTR 251

Exercise for Wellness 

1

1

1

1

1

1

2

1

1

1

11

55

PTR 260

Pediatric Pulmonary Rehabilitation 

1

1

1

1

1

1

2

1

1

1

11

55

PTR 265

Floortime Approaches in Physiotherapy 

1

1

1

1

1

1

2

1

1

1

11

55

PTR 262

Sign Language 

1

1

1

1

1

1

2

1

1

1

11

55

PTR 263

Assistive Technology and Rehabilitation

1

1

1

1

1

1

2

1

1

1

11

55

PTR 264

Job Coaching Training in People with Intellectual Disabilities 

1

1

1

1

1

1

2

1

1

1

11

55

PTR 407

Physical Therapy and Industry 

0

1

1

0

0

0

2

2

2

1

9

45

PTR 266

Physiotherapy and Rehabilitation in Geriatrics

1

1

1

1

1

1

2

1

1

1

11

55

PTR 270

Physical Therapy Approaches in Diabetes Mellitus 

1

1

1

1

1

1

2

1

1

1

11

55

PTR 273

Academic Paper Writing and Literature Review 

1

1

1

1

1

1

2

1

1

1

11

55

PTR 274

Motor Learning and Motor Control

1

1

1

1

1

1

2

1

1

1

11

55

PTR 267

Hand Rehabilitation 

1

1

1

1

1

1

2

1

1

1

11

55

PTR 268

Physiotherapy in Women Health 

1

1

1

1

1

1

2

1

1

1

11

55

PTR 269

Palpatory Anatomy of Limbs and Trunk 

1

1

1

1

1

1

2

1

1

1

11

55

PTR 275

Special Exercise Applications in Orthopedic Rehabilitation 

1

1

1

1

1

1

2

1

1

1

11

55